Take On Mars lands new Deimos content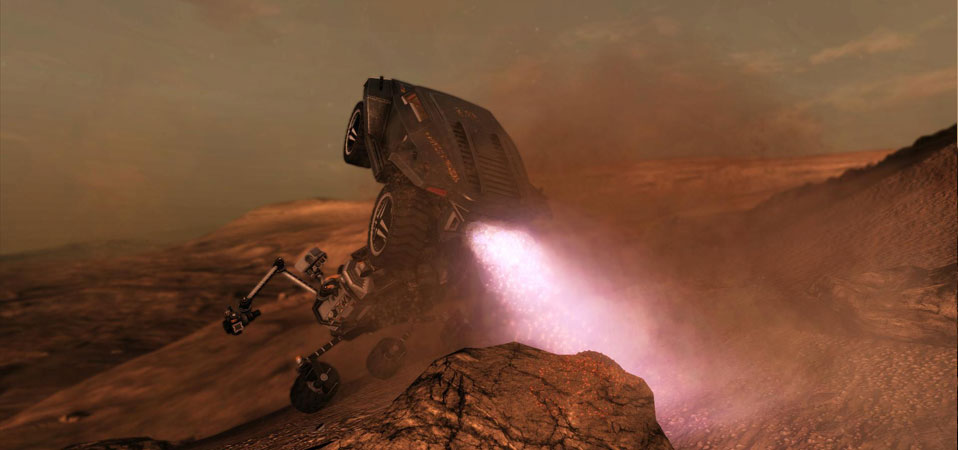 Together with the announcement of the October plans for Take On Mars, We released a major update for Take On Mars. Landing a complete integration of Steam Workshop, several new side-missions, the Workbench suite for mod-makers, alongside various other improvements and fixes, the 'Mars Builder' update expands the game's universe and adds new dimensions for players to explore.
The addition of Steam Workshop to Take On Mars enables players to upload, play and share a wide range of player-created content – including new terrains, models, and scenarios created with the in-game 3D editor. To kick things off, the development team created and shared an example mod pack, which includes a new crater location, a 4WD Buggy vehicle, plus a few options for customizing the Buggy with alternative sounds, configurations, equipment (turrets), and textures.
The Take On Mars team is also proud to announce the upcoming Deimos update. Available on October 3rd, this free update includes two brand new locations for you to explore, and a vehicle designed for zero gravity environments, the Zero-G Probe. Furthermore, the update brings along several new features, such as 'Dynamic Mission Generation', which dynamically creates photo, exploration and analysis tasks around the player's location. Another feature is the overhauled 'Part Failure System', which makes part failures much more reactive to the weather conditions and player's actions. Related to weather conditions, sandstorms, strong winds, and dust devils will also be making their debut in Take On Mars with the planned October update.
The free Deimos update will be made available through an automatic Steam update on October 3, 2013. After this date, the price of Take On Mars will be also increased to 13.99 EUR/ 17.99 USD/ 11.99 GBP. The game is currently available on Steam (Early Access) and Store.bistudio.com for 9.99 EUR/ 12.99 USD/ 8.99 GBP.