Bohemia Interactive will launch a manned mission to Mars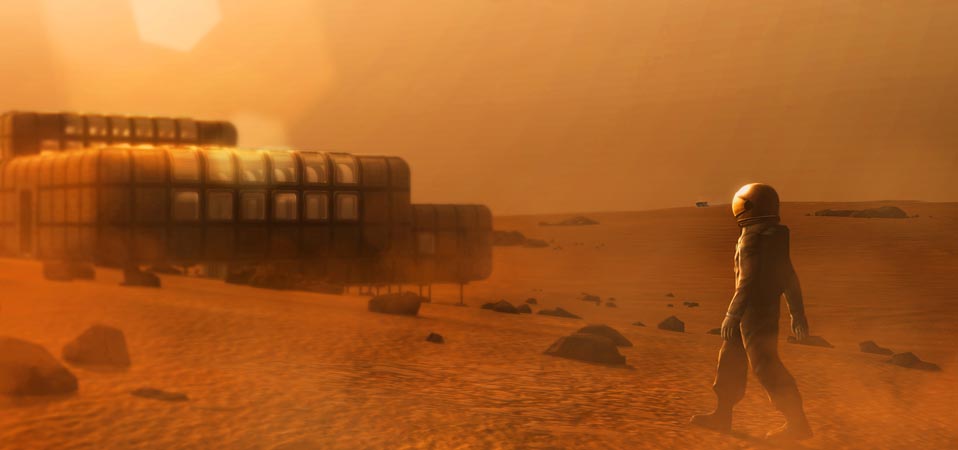 Bohemia Interactive, an award-winning video games developer based in the Czech Republic, today announce their plan to launch the first ever manned mission to Mars. The project, which uses 'Expedition One' as its working title, is part of the studio's effort to explore the red planet and – ultimately – establish a human colony on Mars. While the first space shuttle is scheduled to depart as early as April this year, Bohemia Interactive is still actively recruiting for people to join its Mars Astronaut training program.
Expedition One, a content update for Bohemia Interactive's new sim game Take On™ Mars, enables volunteers to explore Mars from the most intimate of perspectives; through their own eyes. Participants will be tasked with performing a multitude of scientific experiments, constructing habitats spanning from shelters to entire installations, and searching for viable sources of oxygen, water, and raw maaterials. Due to the limited amount of supplies the space shuttle can carry, one of the most significant challenges for the Mars Astronauts will simply be surviving the harsh Martian environment. As such, participants will have to actively manage their oxygen levels, food stocks, grow plants, and operate drilling rigs in the search for new resources. Unpressurized and pressurized manned vehicles will be at their disposal to increase their mobility across the vast alien terrain.
"As a studio, we've always been obsessed with games that explore topics of human fascination", said Bohemia Interactive's CEO, Marek Spanel. "One of those is space exploration. Missions to Mars - from the past, present, and also some ambitious projects for the future - sparked our imagination about what it would be like to be the first human on Mars. We soon felt that this should be the endgame for the Take On Mars campaign."
With the arrival of the Expedition One content update, the campaign in Take On Mars will be divided into two chapters. Chapter 1 focuses on the exploration of Mars via the Mars Rovers and Stationary Landers, while Chapter 2 is entirely dedicated to human exploration of the red planet. Those who would wish to embark on this exciting adventure right away will be able to skip the first chapter. However, this does mean that they will start out with fewer resources than those who completed part one of Take On Mars' Space Program campaign.
Highlights of the Expedition One mission include:
Take the next giant leap for mankind and leave the first human footprints on the surface of Mars
Drive unpressurized and pressurized manned vehicles to explore the new 8x8 km Cydonia terrain
Build your own habitat spanning from shelters to entire installations via a unique construction system
Live off the land by managing and extracting resources to build your base and keep you alive
Establish the foundations of a human colony on the surface of another planet
Expedition One will be made available in the second quarter of 2014. To enroll for the manned mission, people can join Take On Mars' Early Access program on Steam for the reduced price of 13.99 EUR/ 17.99 USD/ 11.99 GBP.
Take On Mars was officially announced at E3 2013, where it won IGN's Best New PC Game award. For more information on Take On Mars, please visit http://mars.takeonthegame.com/ and/or follow Take On Mars on Twitter and Facebook.